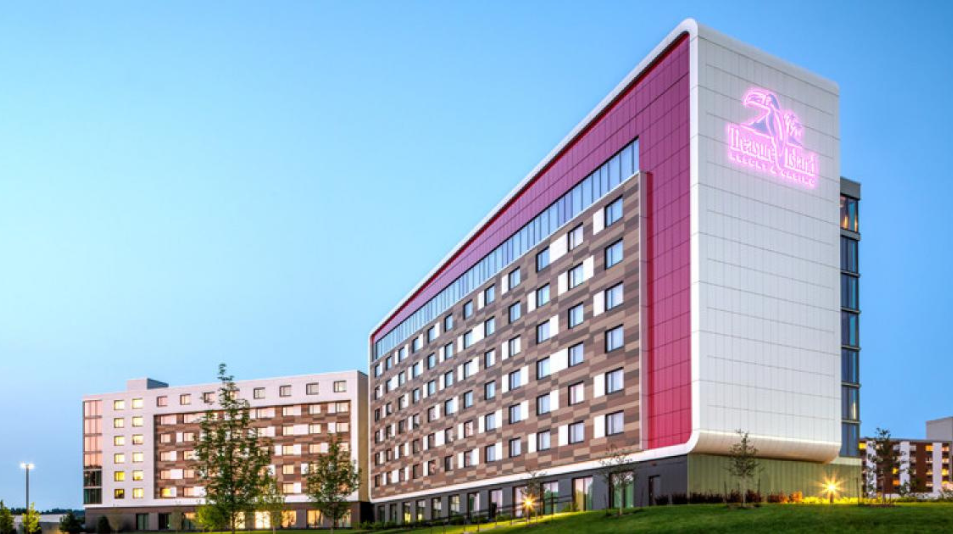 Treasure Island Resort & Casino is a tribal gaming facility. It is situated in Welch, Minnesota. The Prairie Island Indian Community (PIIC) owns and operates the casino. This casino is the only one in southern Minnesota that's located on the Mississippi River. It offers a variety of gaming options. These include slot machines, video roulette, and blackjack. Other games available are keno, live dealer blackjack, poker, and other table games. Bingo is also a popular choice among visitors.
The Humble Beginnings of Treasure Island
The resort had its beginnings as a bingo hall in 1984, known as Island Bingo. This initial establishment was a 30,000-square-foot space that could accommodate 1,400 people. The success of Island Bingo led to its expansion into Treasure Island after the Indian Gaming Regulatory Act of 1988 was passed. This act required states to negotiate gaming compacts with tribes, which was a significant step towards strengthening tribal governments and improving the quality of life on reservations.
The Impact of the Indian Gaming Regulatory Act
Back in 1989, the Prairie Island Indian Community entered into an agreement with the State of Minnesota. This agreement allowed the community to grow its gaming operation. By 1991, they had expanded the building with an additional 25,000 square feet. This expansion created more space for a wider variety of games. The following year, they further increased the casino's size by another 25,000 square feet.
Expansion and Growth: The Transformation into a Resort
The Prairie Island Indian Community has shown significant growth. This was evident with the opening of a community center and a health care facility. They also made improvements to their tribal water and sewer systems. In 1993, they added a 78,000-square-foot expansion to the community. This expansion included three new restaurants and valet parking. It also featured a state-of-the-art kitchen and a gift shop. A players club, a ballroom, and a new entertainment area were also part of the expansion. The following year saw the opening of a 137-slip marina. Additionally, a 95-site RV park was launched.
In 1996, Treasure Island underwent a significant transformation with a $20 million addition and redesign. The name was changed to Treasure Island Resort & Casino, and a 250-room hotel was added, transforming Treasure Island into a destination resort. The total square footage reached 350,000, with 25,000 square feet designated for meeting space.
In 2001, an additional 200,000 feet were added to the casino, which included a new grand entry, higher ceilings to improve air quality, additional games, a 70,000-square-foot office space, and a 60,000-square-foot warehouse. An expansion completed in fall 2008 included 230 new hotel rooms, a 30,000-square-foot event center, and a bowling center complete with an arcade area.
In 2015, the Tado Steakhouse was constructed, the Tradewinds Buffet was remodeled, and construction began on a water park & spa. The Lagoon and Wave Spa opened in February 2016.
The Prairie Island Indian Community: A Flourishing Tribe
The Prairie Island Indian Community has flourished into a successful tribe. Much of this success is due to the thriving Treasure Island Resort & Casino. The community has set up a range of services. These include educational programs and scholarships, which have boosted learning opportunities. They also provide social services to support their members. Financial planning services are available to help with money management. The community has improved its water and sewer systems for better living conditions. They have also built a water treatment facility for clean water supply. A health care facility ensures the well-being of the community. They have a community center for social gatherings. The tribal government center serves as the administrative hub. A tribal courtroom and a tribal police chief ensure law and order. Exercise facilities are also available for fitness and wellness.
Treasure Island Resort & Casino: A Major Economic Contributor
The Treasure Island Resort & Casino is the largest employer in Goodhue County, providing nearly $14 million in state and federal taxes annually. The community also owns Dakota Station (a gas station and convenience store) and Mount Frontenac (a golf course). Since 1994, the community has donated nearly $17.5 million to many Indian and non-Indian causes.
In summary, Treasure Island Resort & Casino's journey is truly remarkable. It started as a casino operator managing multiple casinos in Minnesota. Over time, it became part of a larger gaming conglomerate. This transition is a clear testament to its success in the gaming industry. The legacy of Treasure Island Resort & Casino continues to shape the industry. It ensures that the casino's name will always be linked with excellence in gaming. This enduring association is a testament to the casino's commitment to providing top-notch gaming experiences.